Sunday, May 15, 2005
Posted by

Soonerbeknitting
at 3:12 PM
No comments:

Thursday, May 12, 2005
This is the Kittyboy, the furry tyrant who rules this house. We think he is some or maybe mostly Ragdoll, since he seems to have all the characteristics of the breed. He loves my husband's mowing shoes!

Posted by

Soonerbeknitting
at 5:33 PM
No comments: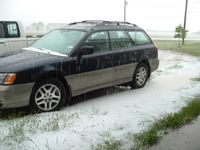 Here was a lovely May surprise. Local weathermen had said this storm would go east of us, but suddenly we had about 15 minutes of hail, up to golf ball, and a tornado warning!

Posted by

Soonerbeknitting
at 5:31 PM
No comments: